The GoPlus 10' Inflatable Stand Up Paddle Board lets you enjoy more time on the water for less. This affordable SUP (stand-up paddle board) is made from high-quality materials so that it will not puncture easily. It can be carried around in the included backpack and inflated on the shore using the manual pump. This paddle board is the perfect choice for the ocean, lake or river. It is ideal for experts as well as newcomers to this popular activity.
If you have thought about buying an inflatable board to use for touring at the beach or lake, yet are unsure about which product to buy, this review of the Goplus 10' Inflatable Stand Up Paddle Board can help. We will describe all the important features that you should look for when buying a SUP and talk about the benefits of owning one of these convenient and space-saving paddle boards.
Comparison Table
The Top Reasons to Buy the GoPlus 10' Inflatable Stand Up Paddle Board
The GoPlus 10' Inflatable Stand Up Paddle Board has many features that make it a great SUP board. For starters, it is durable and steady enough to double as a surfboard. The material features a durable top foam and non-slip grip texture making it less likely for you to fall. This makes the GoPlus board a good choice for beginners who are just learning how to stay balanced on the water.
The GoPlus board can provide you with the right glide for all types of water activities including cruising, exploring, fishing and fitness. It is 6" thick which helps the board not to wobble as much while also allowing heavier users to ride with ease.
The flat-water design allows users of all experience levels to enjoy using this versatile SUP as an inflatable surfboard as well. The GoPlus 10' Inflatable Stand Up Paddle Board has a striking appearance, is made from high-quality materials, and it is available at a competitive price. It retails for $ on Amazon.com.
Here are some more details on why you should purchase the GoPlus Inflatable 10' Stand Up Paddle Board.
It Works Well on All Bodies of Water
You are not limited to using the GoPlus Stand Up Paddle Board at the beach. It can be used in other water environments such as a lake or river. The deck pad is extended to the tail which makes it possible to surf, practice yoga, or even fish from your SUP board.
Includes Plenty of Useful Accessories
The GoPlus Inflatable 10' Stand Up Paddle Board Package, which is available on Amazon, includes the following:
1 Inflatable board
1 Expandable paddle
1 Fin
1 Coil leash
1 Manual pump
1 Repair kit
1 Carry backpack
Portable, Convenient, and Easy to Carry
The carry backpack which is included with the GoPlus SUP board package is comfortable and easy to carry along while traveling. The portable, superior quality bag makes it possible to take your stand up paddle board with you wherever you go whether you are camping, boating or flying to a distant island retreat.
This inflatable SUP is much easier to store, carry, and transport than hard boards. Which makes it a great option for people who live in small apartments or homes with minimal storage space. You don't have to attach the board to the top of your car as you are heading to the beach or lake. And it is no problem to carry as you locate a place on the beach to set it up.
Impressive Design That Keeps Users ​​​​Safe
The GoPlus 10' Inflatable Stand Up Paddle Board has a more detailed design that many other boards currently available.
It has a large, removable fin that offers the board more stability. This allows it to perform well in surfing or flat water.
The four-point mounted bungee cord system is made from high quality bungee material and is located on the front deck. You can hold onto the strings to help you feel safe and confident as you are getting used to being on the board. It also doubles as a place to store your necessities and keep your gear secure.
What Features You Should Look for in a New Stand Up Paddle Board
Stand up paddle boards have many different features and are available in various lengths and widths. There are a few key things that you should look for when you are buying your first SUP board. Here are some of the features that your new board should have so that you may enjoy your time on the water.
Here are a few things that you should pay attention to when buying an inflatable SUP.
What Features You Should Look for in a New Stand Up Paddle Board
To find the perfect paddle board for you, it's important that you learn the difference between each type of board. Keep in mind that there are some boards that crossover and are versatile enough to fit into more than one category. But the following are the six most common types.
All Around Stand Up Paddle Boards
An All Around SUP is a board that is ideal for first time users and experts alike. They are versatile and may be used for a number of applications. This is the most common type of stand up paddle board on the market. They are family friendly and many people use them to bring along their dog for some fun on the water.
Surf SUPs
A Surf SUP is the ideal choice for intermediate users and advanced paddlers. They are great for those who want to get a little more action and excitement out of their paddle boarding experience. These boards are not recommended for beginners because they can be less stable on the water. This makes it easier for people to fall off. Surf SUPs are easy to maneuver while in the surf and they are extremely shreddable. They are typically much larger than all around or touring SUPs that come with a paddle.
Touring SUPs
A touring SUP is the perfect choice for serious paddlers that have interest in using their paddle board for intense workouts on the water. They are designed to cover long distances in flatwater areas such as open oceans, bays, and lakes. These boards are designed for maximum glide and efficiency. The boards are typically wide and stable for beginners to use as well.
Race SUPs
Racing SUP is great for experts because they are designed for flat water races, downwind or open ocean competitions. These boards are longer and extra wide so that they can gain more speed and offer long glide efficiency. A race paddle board can be challenging for beginners to use but are usually no problem for recreational racers and experts.
Fishing SUPs
Fishing SUPs are a great option for anglers who love to fish out on the water but don't want to purchase an actual motorboat. A Fishing SUP will have the largest volume which allows you to stay high on the water so that you can look down on the fish below. They often have mounts preinstalled for holding rods and fish finders, they will also have better storage options because you have to take along your fishing gear.
Yoga SUPs
These fitness paddle boards are designed for practicing yoga. They can also be used for flatwater paddling and any other type of exercise. These boards are designed for stability and feature an expansive deck pad that provides plenty of space for doing various yoga stretches.
The Different Board Sizes
The size of your stand up paddle board depends on your weight and what type of paddle boarding experience you plan to take part in. You should think in terms of volume when determining your perfect paddle board size. Boards that are thicker, wider, and longer will have more volume. The more volume it has, the more stability it will provide for you.
If you are new to paddle boarding, you should purchase a board that has more volume. These SUPs will offer additional stability and support more weight. As your skills improve, you can downsize the amount of volume and begin to use a thinner or more narrow board.
Should you Purchase an Inflatable or
Epoxy Paddle Board?
After you have determined which type of SUP you want to buy, you need to decide if you want to purchase an inflatable SUP or an epoxy paddle board. There are several differences between the two that you should know about before making a purchase.
Deciding on purchasing an inflatable paddle board or an epoxy board will depend on your budget, how you plan to use the board, your storage options and how you plan to transport the board.
Usage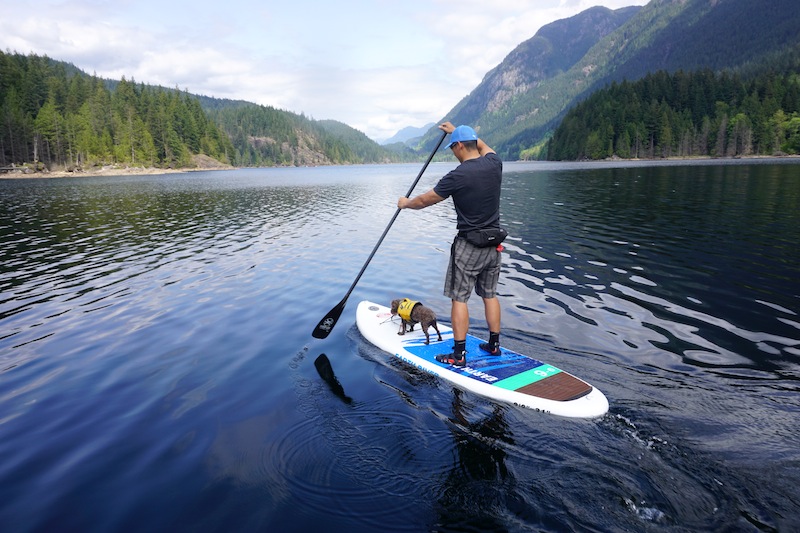 As far as performance is concerned, epoxy boards perform much better than inflatables. But inflatable SUPs are improving each year. Beginners typically have better stability when using an inflatable board and they work well in practically all water conditions including lakes and rivers. If you are an expert paddler and want to increase your maneuverability, speed, and glide, you should consider an epoxy board.
Transportation
Inflatables are no trouble to transport, especially when compared to epoxy boards. They can be deflated and stored inside a small backpack that can be taken along to the beach, lake, or even on a plane. As far as transportation goes, inflatables are the best option all around.
Storage
Inflatable SUPs are also the best option in terms of storage. If you live in a small apartment or do not have much storage in your home, you will have to make room for your epoxy board. But an inflatable can be stored inside a bag and placed in your closet or even under the bed. They only take up a minimal amount of space and are up and out of the way.
Storage Options for an Epoxy Board
If you have an epoxy board, you should store it in a board bag which will prevent scratches, dings and other issues from occurring. All boards, both epoxy and inflatables, should be stored in an area where they are out of direct sunlight. You should keep them in a cool and dark room where they will stay safe and protected.
The Price
One of the biggest concerns that many people have when buying an inflatable stand up paddle board is the price. They can range from very affordable to very expensive and it's hard to determine the quality of a board based on the price alone. There are many boards that are great quality products and are also reasonably priced. Yet there are also lower-quality boards that may be priced twice as much.
Do your own research on the different brands, models and styles and find out what other customers have to say about these products. This will give you a better idea about which boards are a great value and which are not worth your time.
The Best Place to Buy a SUP
There are plenty of places to buy an inflatable SUP both online and offline. You can purchase boards direct from the manufacturer or you can buy from an online retailer such as Amazon.com. Retail and sporting goods stores also have a great selection of inflatable stand up paddle boards for you to choose from, both online and offline.
The main factors to consider when buying a new SUP board is the cost, the guarantee that is offered, and their level of customer service since that is typically a direct reflection of how reliable the company is.
Should You Purchase the GoPlus 10' Inflatable Stand Up Paddle Board?
The GoPlus 10' Inflatable Stand Up Paddle Board is an excellent product for experts and beginners alike. It has many exceptional features that make it a great value for those purchasing an inflatable SUP board for the first time.
The board is affordable, usually retailing at around $299 from most merchants. It includes useful features such as a slip-proof exterior, and reliable bungee cord system for safety and storage.
If you are looking for a great board to use at the beach or lake, you should consider buying the GoPlus SUP board.
Last update on 2021-12-08 at 13:00 / Affiliate links / Images from Amazon Product Advertising API